CM Mahmood signs summary for K-P Assembly dissolution
Description:
Khyber-Pakhtunkhwa (K-P) Chief Minister Mahmood Khan on Tuesday sent a summary for the dissolution of the provincial assembly to Governor Haji Ghulam Ali.
"I, Mahmood Khan the Chief Minister of Khyber-Pakhtunkhwa in accordance with Article 112(1) of the Constitution of the Islamic Republic of Pakistan hereby convey my advice for the dissolution of the Provincial Assembly of Khyber-Pakhtunkhwa on 17 January 2023," the summary reads.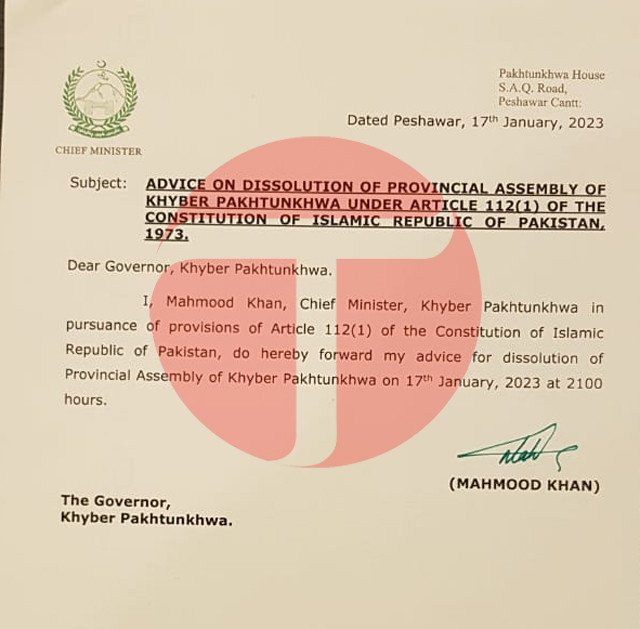 K-P Government Spokesperson Barrister Muhammad Ali Saif confirmed the development saying that the summary for dissolution of the Assembly has been given to the Governor.
"Even if the governor does not approve the summary, the assembly will automatically dissolve after 48 hours," he added.
Addressing the 86th meeting of the provincial cabinet today, CM Mahmood said that "the last four years have passed smoothly", adding that the cabinet members and the government are grateful to the MPAs of the opposition parties and the bureaucracy.
He further thanked the people of K-P for their trust. "In the interest of the country, the Khyber-Pakhtunkhwa assembly will be dissolved today," he announced.
The chief minister also expressed hope that "in the coming general elections, we [PTI] will form a government with a two-thirds majority across the country".
He claimed that there was instability in the country due to "imported rulers" and getting rid of the "corrupt gang" had become imperative.
An important meeting was also held under the chairmanship of Pakistan Tehreek-e-Insaf (PTI) chief Imran Khan in which the dissolution of the K-P assembly was discussed.
On 14 January, the Punjab Assembly was dissolved despite Punjab Governor Balighur Rehman refusing to sign a summary to dissolve the provincial assembly.
Following this, the Governor sent letters to Punjab Chief Minister Pervaiz Elahi and Leader of Opposition Hamza Shehbaz requesting the appointment of caretaker Chief Minister for which three candidates were proposed.
Subsequently, CM Mahmood announced that a summary will be sent to K-P Governor Haji Ghulam Ali to dissolve the provincial assembly on Tuesday (today) as per Imran Khan"s instructions.
Earlier, Special Assistant to Chief Minister for Information Muhammad Ali Saif said that after the dissolution of the K-P Assembly, a letter would also be written to Leader of the Opposition Akram Khan Durrani to appoint an interim chief minister.
"Now the federal government has no other option but to hold fresh elections," said lawyer Saif.